We use customer feedback as a marketing tool so more people can discover just how awesome you are
If you're like us, you got into business to make a difference in people's lives, and it makes your day when customers are delighted with their experience.
Whether you're a café serving coffee so good people go out of their way to visit, a skilled professional helping people overcome problems, or a retail business serving your local community, our mission is to help more people discover just how awesome you are.
We do that with customer feedback – which not only helps you know you're doing a good job, but also turns into a powerful marketing tool that builds trust and attracts new business.
We drink our own kool-aid too – because customer feedback guides everything we do.
So it's when people like Osteopath, Michael Walker, tell us "turnover is up 25% on the same period last year" because of his ratings, we know we are on track with our mission.
Who are we?
Trust Vega was born in 2017, when the frustration of trying to stand out in an increasingly crowded marketplace against big players with deeper pockets became too much to handle.
Originally launched as 'Trusted Practitioner' (which still exists), our founder, Rob Woodgate set out to help professionals leverage customer feedback so they could spend less time marketing and more time actually helping people.
Trust Vega is the evolution of that original system, built from the ground up and launched in March 2019 under the brand name, RatingScoop to give businesses of all kinds – from Accountants to Zumba Instructors and every business in between – the same kinds of tools the big players enjoy, at a fraction of the price.
And because we wanted to retain our popular Trusted Practitioner brand, we made Trust Vega a fully white-label review management solution – which means that partners such as SEO, SEM and media buying agencies can brand it as their own and bundle it into their existing suite of services with ease too.
Why Trust Vega?
In 2023, we decided to rebrand our service from RatingScoop to Trust Vega. There were a couple of reasons for this.
Firstly, it conveys the core value of our original brand… TRUST.
This is something the name RatingScoop just couldn't offer, and it was clear that businesses valued that aspect of our original branding.
Secondly, there is a bunch of subtle symbology in the name Vega.
It's one of the brightest stars in the night sky, and it will be the North or guiding star of the future.
We felt the new name better reflects our values and aims as a company.
I hope you'll give us a try and see if you agree.
Yours sincerely,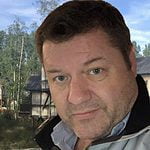 Rob Woodgate
Founder of Trust Vega