How Does Trust Vega Work?
Step 1: Request Customer Feedback.
Anytime, Anywhere
With 6 hassle-free ways to request feedback, there's something for every business.
Web Link
Collect feedback directly from your website with our embedded button, or share your direct feedback link in your email signature.
QR Code
Print on invoices, business cards, posters etc and customers can simply point their smartphone camera to leave feedback.
Kiosk
Setup an iPad/tablet based 'kiosk' so that your customers can leave feedback in-store at point of purchase or as they leave.
Ad-Hoc Request
Invite a customer to give feedback by entering their name and email, and our system will do the rest, automatically.
Upload List
Upload your customer email list and our system will automatically drip out feedback requests to eligible customers over time.
API
Connect your shopping cart or CRM (directly or via Zapier) and send feedback requests automatically from your favourite app.
Please Note: Kiosk and API are available on our Pro plan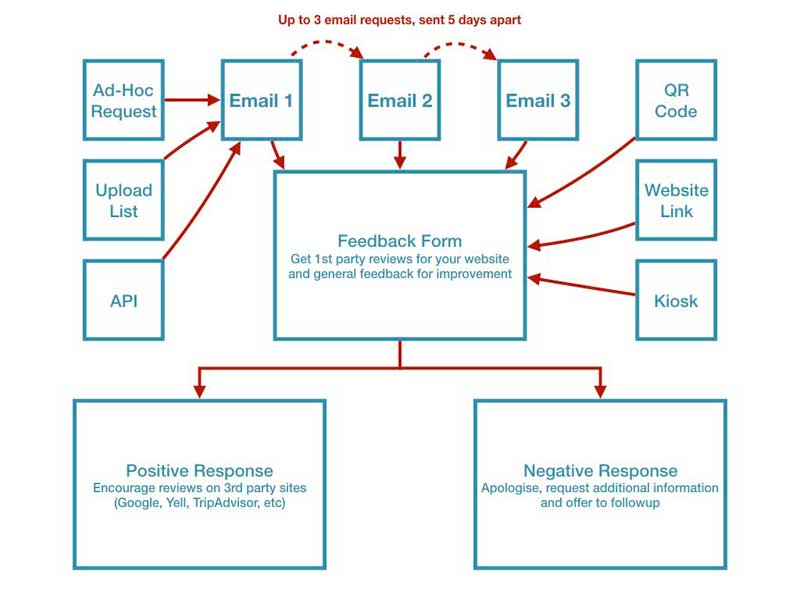 Step 2: Sit Back As Trust Vega Handles The Feedback Collection Process Automatically For You
Whichever request method you use, your customer will be taken to our feedback form, which will be branded up with your company details. As feedback comes in, we'll add it to your dashboard for your review, and let you know by email.
If the response is positive, we'll encourage them to also leave a 3rd party review on the sites you care about most, including:

Step 3: Publish Feedback On Your Website With A Click
Our review display widgets make it simple for you to seamlessly display your verified star rating and 1st party reviews on your website at the click of a button, including an optional reply.
Here are the other FAQ's we get:
What is the setup process like?
Setup takes just a couple of clicks. You simply fill out your business profile and start requesting reviews. Then just add a snippet of code (or our WordPress plugin) to your website, and you can publish reviews to your website with a click as the come in.
Do I have to publish every review?
No. Your rating updates immediately a review is received, but new and edited reviews are held for your approval before being published to your website. This lets you remove inappropriate feedback (e.g. fake, offensive, breaches privacy)
Does the system respect customer confidentiality?
Yes. Your customers can choose the information they make public, including how their name appears. Our system encrypts private personal data for privacy protection and gives your customers automated tools to exercise their GDPR rights (e.g. to edit or remove a review).
Do I need a website?
No. Although Trust Vega works best when you have somewhere to show your 1st party reviews, it's not a deal-breaker if you don't, because you can still use it to collect more 3rd party reviews on Google, TripAdvisor, Facebook and Yell. You can also use the 1st party feedback you get for internal quality control and customer relations.
Can I choose the 3rd party review sites?
Yes, you can choose to add or ignore Google, Facebook, TripAdvisor, TrustPilot and Yell. You can also add your own custom review site if there is an important one in your industry.
Who owns the data / reviews?
You do! All content (including your customers and reviews) is 100% owned by you. Trust Vega is just a tool for YOU to collect and display YOUR reviews. We operate as your data processor, and we don't have permission to use your data for any other reason.
Can I change my plan later?
Yes! You can upgrade, downgrade or cancel your current plan at any time via your account. You don't even need to contact us! If you upgrade, we'll prorate the unused portion of your current plan towards your new one.
Do I have to pay for updates?
No! We are constantly improving our software, and you get it all for FREE! Because Trust Vega is in the cloud, any time we add a new feature or make an update, it immediately shows up in your account.
 If I cancel, will I lose my data?
We hope you'll love our service so much you never want to leave…
But it's your data, not ours… so should that day ever come, you can simply download all your reviews using the option in your dashboard. We'll then securely delete everything on our system 30 days after your account is terminated to ensure your privacy (and that of your clients) is totally respected.
Why don't you work with Yelp?
Quite simply, because Yelp's Business Owner Guidelines, which are part of their Terms of Service, says that businesses should not ask for reviews. So any review management service that offers Yelp probably doesn't care much about your long term success.
Where Can I Get My Google Reviews Link?
Google seems to rearrange their interface every so often, and their policies and advice are regularly updated, so we've written a blog article on where to get your Google reviews link which we keep updated as things change.