Trust Vega's share buttons make it simple for you (and your website visitors) to share customer feedback from your website to all the popular social networks – and we currently support sharing to Facebook, Twitter, Pinterest, LinkedIn and WhatsApp.
The share buttons let you share customer feedback as easily as sharing any other content.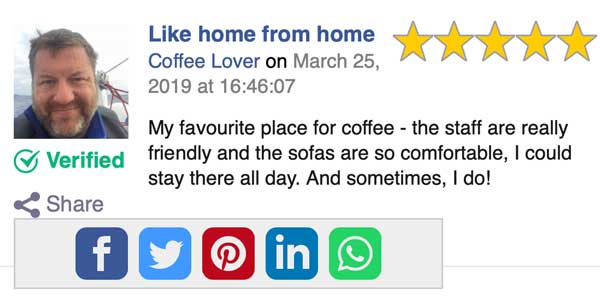 This not only helps you get social proof in front of more potential customers, it's also an easy way to create content for your social media feeds.
Here's a quick screen grab video of me sharing some customer feedback on our Facebook page. You can see the end result on our page wall.
This is just one of the many benefits of using Trust Vega to collect, display and manage customer feedback.
Get More Facebook Recommendations Too
Facebook also offers their own native review feature called Facebook Recommendations, which lets Facebook users leave reviews and recommendations on your page.
As well as sharing customer reviews from your website to Facebook, Trust Vega can help you get more of these native recommendations on Facebook too.
It can also help you get more reviews on TripAdvisor, Google and Yell – giving you even more ways to attract new customers.
Want to get started? Signup below!