Get more website visitors, leads, and customers using verified reviews
Trust Vega is the fast, easy way to collect genuine, verified reviews from your happy customers. Showcase them on your website with a click. Build trust, attract customers and thrive.
It's the small business owner's secret weapon in a global marketplace.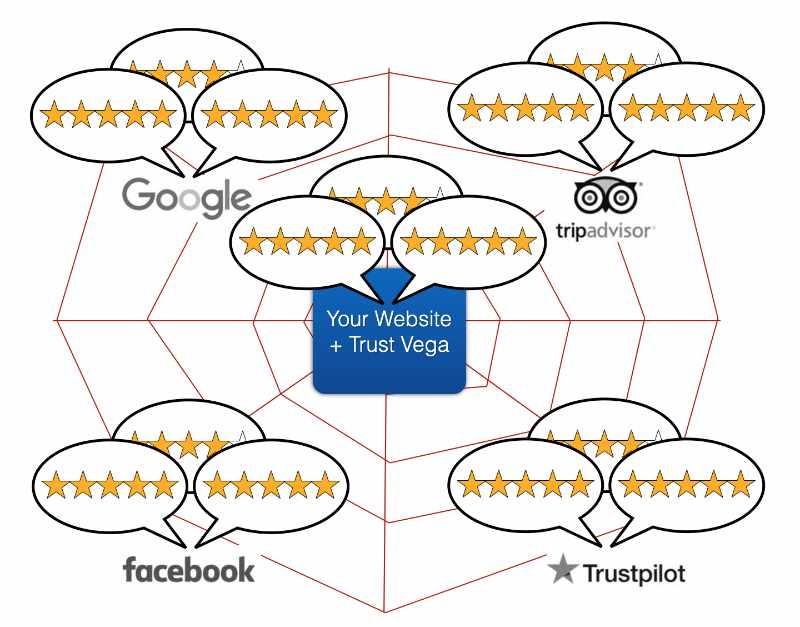 Get Genuine Reviews… Everywhere!
Reviews are more believable, encouraging and inspirational than any advertisement you could display, and Trust Vega's followup process makes it simple for your customers to sing your praises.
A single Trust Vega request can get you MULTIPLE REVIEWS: one for your website, and one on the popular review sites.
See your 5-star reputation grow consistently, as you build a web of influence for your brand that attracts even more customers.
Turn More Visitors Into Customers
Research shows that adding genuine, trustworthy reviews to a website turns up to 44% more visitors into customers.
This lowers your customer acquisition costs (CAC) and grows your business faster.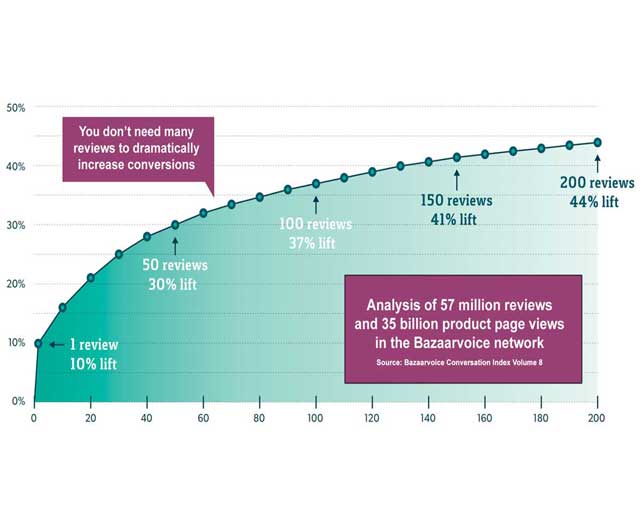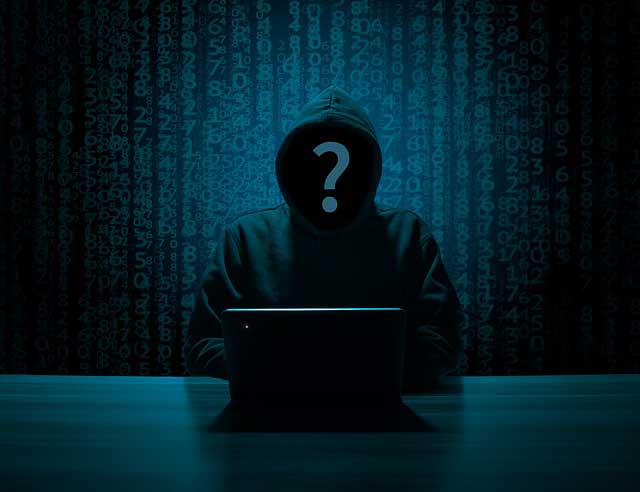 Protect Your Reputation
Our unique invitation system ensures that only genuine customers can give verified reviews on your website. Haters, trolls and competitors are locked out.
And by making it simple for your genuine customers to leave reviews, you'll get a more balanced view on the review sites that matter.
Showcase Your Reviews Like This…
Start Collecting Reviews Now
You'll be all set up and requesting your first reviews just 5 minutes from now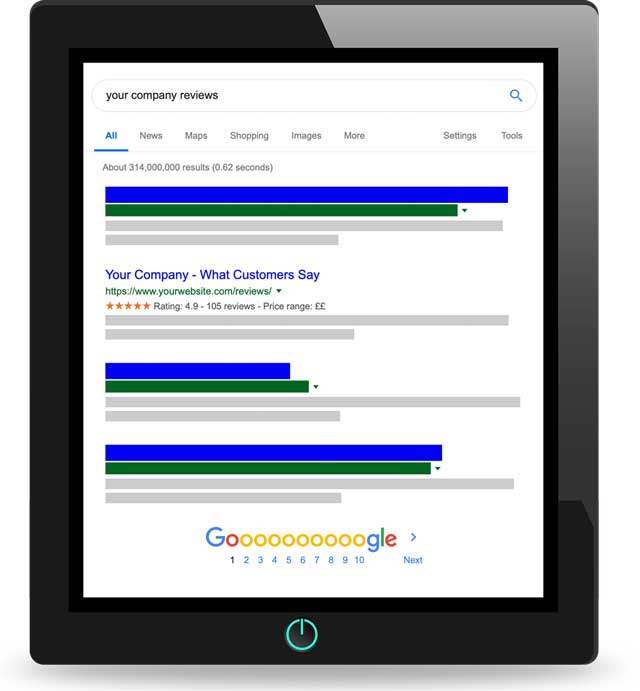 Stand Out In The Search Engines
Our display widgets are fully optimised for SEO, so you get a steady stream of fresh, keyword rich content marked up with search-engine friendly Review Schema.
Google loves websites with fresh, structured content, so adding our review display widgets to your website can have a positive impact on your search engine ranking.
Especially as your customers stories most accurately reflect what potential customers are looking for.
Make Your Competition Irrelevant
By listening to your customers, resolving any issues before they become problems, and making it easy for them to leave reviews, your competition will soon be irrelevant.
And by building a strong average rating on multiple sites, the odd fake or negative review won't have any power to hurt your business.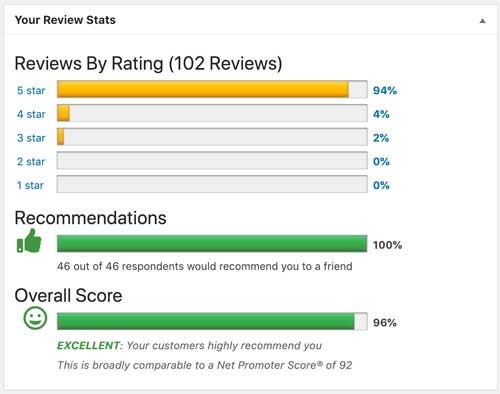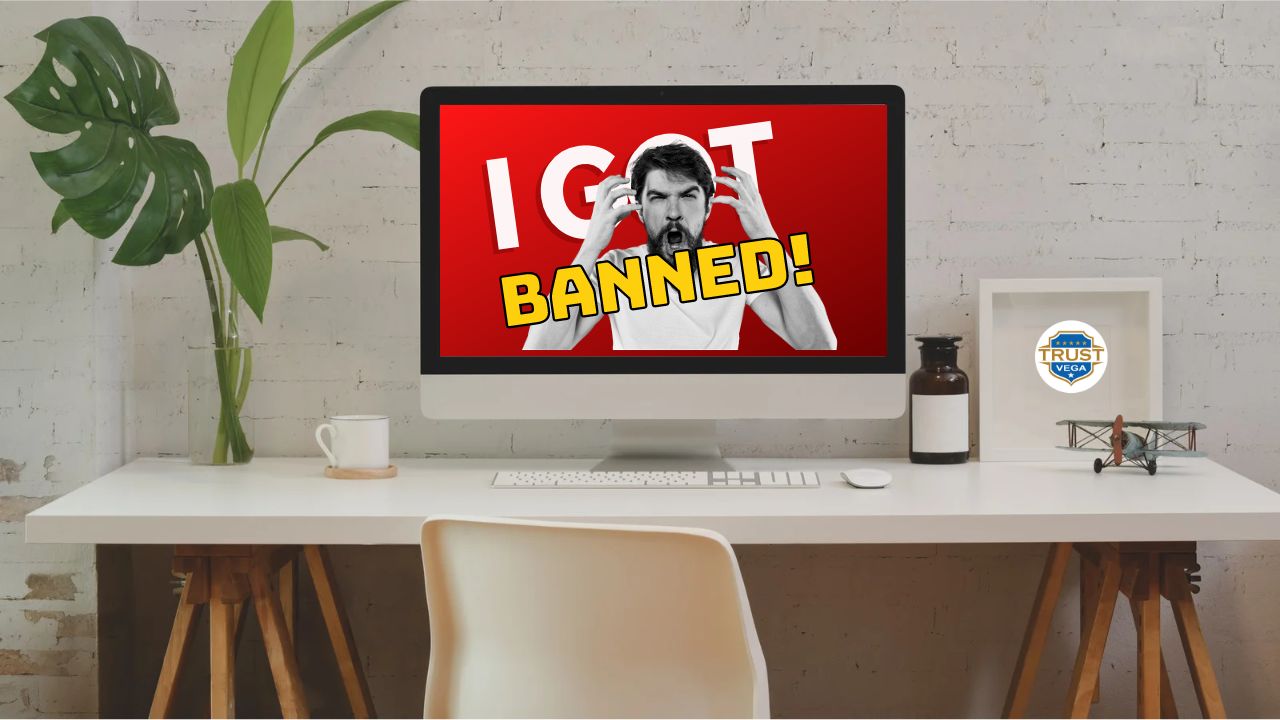 Protect Your Business
Every review you collect on sites like Facebook, Yelp, Google and TrustPilot belongs to them, not you.
You are, in effect, a digital sharecropper, farming on borrowed land. You are not their customer… you are their PRODUCT.
With Trust Vega, you own the reviews you collect, not us. They become valuable business assets nobody can take away.
Start Collecting Reviews Now
You'll be all set up and requesting your first reviews just 5 minutes from now
Trust Vega Gives Smaller Businesses Everything They Need To Thrive In A Global Marketplace Against Competitors With Deep Pockets And Enterprise Tools
Save Time
Request a review in seconds, then sit back and let our automated system do the rest.
Save Hassle
Remove the awkwardness and hassle of feedback and review collection – for both you and your customers.
Save Money
Get the core features the big players enjoy in the enterprise systems, for a fraction of what they pay.
Your Branding
Customer facing email requests and review collection forms use YOUR branding, to enhance customer trust and get you more reviews.
Request Anywhere
Request feedback via email, web link, printed QR Code or even integrate our API right into your shopping cart, for multiple opportunities to get feedback.
Get More Reviews
Our followup process engages customers so you get more feedback. We also make it simple for customers to sing your praises on the review sites.
Privacy Assured
Our system encrypts private personal data for privacy protection and gives your customers automated tools to exercise their GDPR rights (e.g. to remove a review).
Manage And Respond
Get notified when customer feedback comes in. Publish it to your website with a click, add an optional reply, or follow-up privately if there is an issue.
Boost Your SEO Ranking
Search engines love websites with fresh, keyword rich content, and reviews from customers are the perfect source.