Customer satisfaction can literally make or break your business.
That's because it costs five times more to get a new customer than it does to keep an existing one. And customers will only return if they are happy.
And 64% of customers will switch to a competitor after just one bad experience. [1]
That's why customer satisfaction needs to be the core focus of every business, whether you are a multinational company or sole trader.
In this article, you discover 5 of the most critical reasons why you need to understand what customer satisfaction is, along with some other handy information.
So, if you're ready to learn more – read on!
1. Helps You Know Your Strengths
You may believe your business is running well and your products are fantastic, but without tracking customer satisfaction, you will never truly know what you're doing right.
If a business is able to track a customer's satisfaction for specific products or services, then a business can make appropriate steps and decisions.
For example, if customers are particularly happy with a product – then you may decide to make more purchases on that product or even run a sales campaign.
And remember, retaining customers is generally easier than getting new customers.
These repeat customers often spend more as they are familiar with your business and they generally tell others about your business.
2. Helps You Know Where Improvements Are Needed
It's all well and good knowing what you're doing positively with your business, but perhaps more importantly – customer satisfaction tracking allows you to monitor where your business needs to improve.
If many people are unhappy with one particular element of your service or a particular area of a product, you are then able to take the right steps to resolve the problems.
For example, let's say you're running a restaurant.
If multiple customers describe that they were happy with your food, but they were not happy with how they had to order the food or pay for their meal – then you might change your practices.
As a result, you may be able to retain customers and attract even further customers.
Some businesses are reluctant to make changes to their business due to the costs that can often be incurred.
Customer satisfaction data can provide the concrete evidence you need to make good decisions that increase customer retention.
3. Happy Customers = Loyal Customers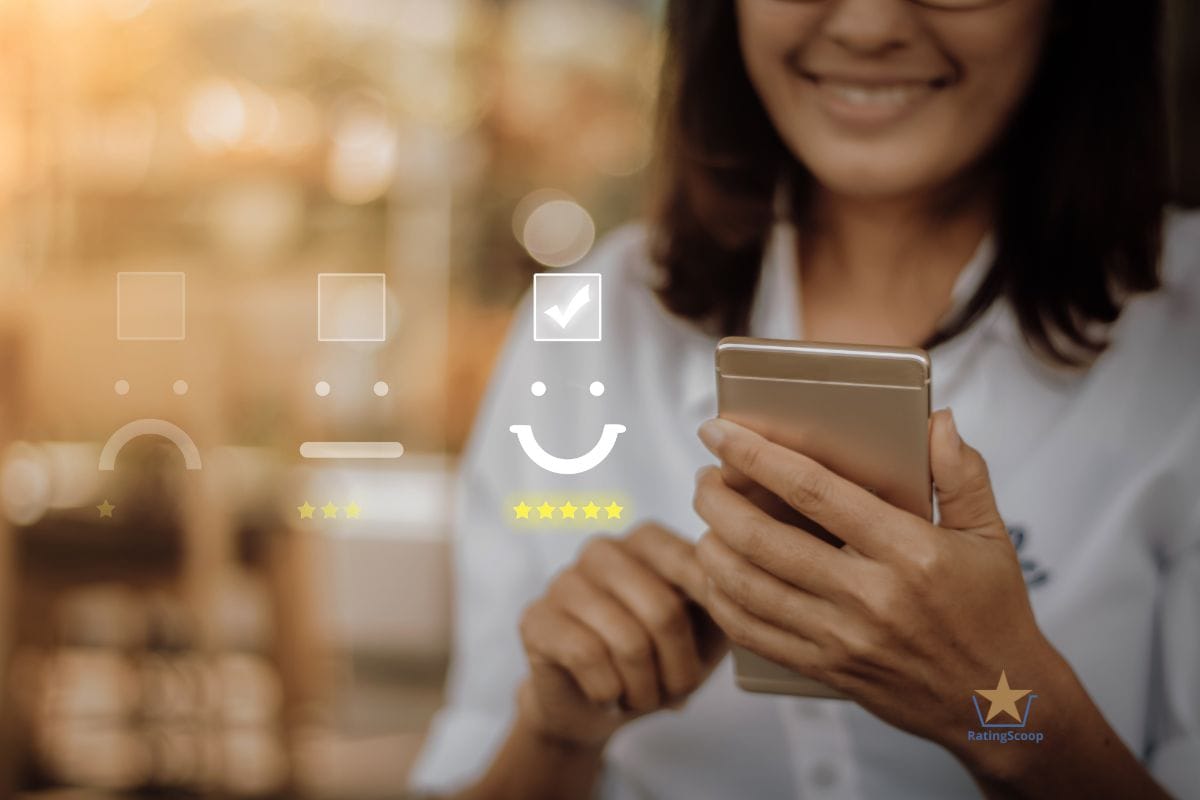 If you have a very highly positive customer satisfaction in your business, generally you will find that your customers become loyal to your brand and to your business overall.
From here, you might notice significant referrals from your customer base.
Once you have established a loyal customer base, you should then be able to expand that and get more and more loyal customers.
More loyal customers means a potential for more revenue.
Of course, every business wants more revenue and one of the ways you can achieve this is by retaining these loyal customers.
Again, you will only be able to do this by tracking and improving customer satisfaction.
4. Customer Satisfaction = Low Churn Rate
To clarify, when we say churn – we're referring to customers leaving and new customers taking their place.
When you have a high customer satisfaction rate, you should find that these customers stay with you, as we mentioned in the previous point.
What this means though is that your business should reduce the level of customer churn because you're tracking their customer satisfaction.
As mentioned earlier, 64% of customers won't come back after a bad experience.
So, how exactly can you prevent this from happening? All you need to do is track customer satisfaction and act on points as and when you need to.
If a loyal customer has had a bad experience and this is completely out of the ordinary for your business, you might be able to retain them if you can act on their feedback as soon as possible.
However, you will only know to do this if you understand customer satisfaction!
5. You Can Compare With Competitors
Finally, one of the best reasons you should understand customer satisfaction is because many of your customers' feedback will be extremely valuable when it comes to competing with other businesses.
Many of your new customers will have tried your competitors before and if you are able to get their feedback, you can gain valuable competitor insights, such as aspects of their service they loved or hated.
If you find multiple customers stating the same points, once again – you will be able to make positive changes to your business practices and hopefully attract more customers and more revenue.
It's important to remember though that if you are going to mirror some of the business practices of your competitors, you need to ensure you are still putting your business identity forward and avoiding any potential copyright infringement issues.
How Can You Track Customer Satisfaction?
There are multiple ways you can track customer satisfaction which have been tried and tested.
Let's look at some of the most common and popular ways below.
Email Surveys
One of the easiest ways you can track customer satisfaction is by sending out surveys via email.
If your business is primarily digital, this should be relatively simple to do, as most of your customers will have provided you with their email address.
Be sure that you are achieving rich data by allowing for customers to provide their feedback specifically.
Social Media Polls
Another way you can track your customers' satisfaction is through social media polls.
Creating polls might not be able to give you as rich data as surveys can, but polls can still be useful.
For example, you might include 5 of your most popular products and see which one customers like the least.
Or, you could suggest 5 changes and see if customers would like to see any of these changes implemented to your business.
Customer Cards
You could hand out feedback cards to your customers and ask for their honest answers.
While this can be more costly and time consuming, customer cards can still be very useful for tracking customer satisfaction.
Customer cards can be combines with the next option too, which is…
Use A Followup System Like Trust Vega
An automated followup system like Trust Vega can not only give you actionable insights into your customer satisfaction levels, it can also get you more reviews.
Followups can be solicited in multiple ways, allowing you to reach customers at the moment of satisfaction.
For example, you might send an email followup after a purchase, or put a scannable QR code on an invoice, packing slip or receipt that links to the feedback page.
Final Thoughts
Understanding customer satisfaction is, as we have seen, extremely important and can be very valuable.
However, it's most important that you not only track it, but you act on it.