We live in a digital age where word-of-mouth marketing takes the form of online reviews, but many business owners don't know how to ask for reviews or why it's so vital to do so.
Fact is, reviews have a huge impact on consumer behavior. In fact, 93% of customers say that online reviews have influenced their decision to buy. [1]
So as a business owner, it's important to get reviews to improve your online presence.
However, there's a problem: You just won't get many reviews organically.
So, what can you do instead?
Ask for reviews!
Asking for a review shouldn't be that hard. You just need to make it an integral part and a consistent process of your business operations.
Believe it or not, most people love being asked for their opinions. In fact, 77% of customers are willing to leave a review when they are asked to.
That's how essential and powerful reviews are nowadays. So, if you are a business owner looking for ways to improve your online reputation and know the how-tos of asking for reviews, keep on reading.
Why should you ask for reviews?
Just consider all the times you've made a purchase from a company because of the reviews you read. These personal purchasing experiences show firsthand the value of reviews.
Likewise, people who have made a purchase with you tend to be influenced by what other people say about your business. That's the power of reviews.
Here are some hard statistics:
More than 99.9% of consumers say that they at least sometimes check reviews before making purchases online.
When it comes to making buying decisions. 98% of consumers consider reviews as an important resource.
According to a survey, 49% of consumers place as much trust in online reviews as they do in recommendations from friends and family.
60% of customers believe that a company's number of reviews is crucial when evaluating and choosing whether to its products or services. [2]
Benefits of Asking for Reviews
Asking for reviews is one great way to build customer relationships. Aside from this, there are more benefits it can bring to your business.
Enhancing Online Visibility and Search Engine Rankings
Customers' reviews help your business's online reputation. Potential customers and search engines see positive reviews as virtual endorsements.
Review signals are also important to Google and other search engines.
The more positive reviews you get, the higher your business will rank in search results, improving visibility and organic visitors.
Building Trust and Credibility
Trust is priceless. Reviews prove your business delivers. When prospects see several good reviews, they're more likely to trust your brand and buy.
Showing satisfied customer feedback builds credibility, sets you apart from the competition, and instils trust in your products or services.
Driving Customer Acquisition
Positive reviews are like strong recommendations that help people decide what to buy. When potential customers read a steady stream of good reviews, it makes them more likely to choose your business over competitors.
By asking for reviews, you create a positive loop of more trust, more sales, and a steady flow of new and loyal customers.
Gaining Valuable Customer Insights
More than merely a reputation boost, reviews provide valuable information. They open up a direct line of communication with your clients, giving you useful information about their experiences, tastes, and expectations.
You can improve your offers, pinpoint problem areas, and provide a superior client experience by analyzing reviews.
Long-term loyalty can be fostered by this customer-centred strategy, which can also improve the reputation of your brand.
Amplifying Brand Advocacy and Word-of-Mouth Marketing
You enable brand discussion by asking for and receiving positive customer reviews. Happy customers who write reviews might become brand ambassadors by telling their networks how fantastic a product or service is.
These authentic reviews might help your brand reach more people and gain more potential customers.
When is the best time to ask for reviews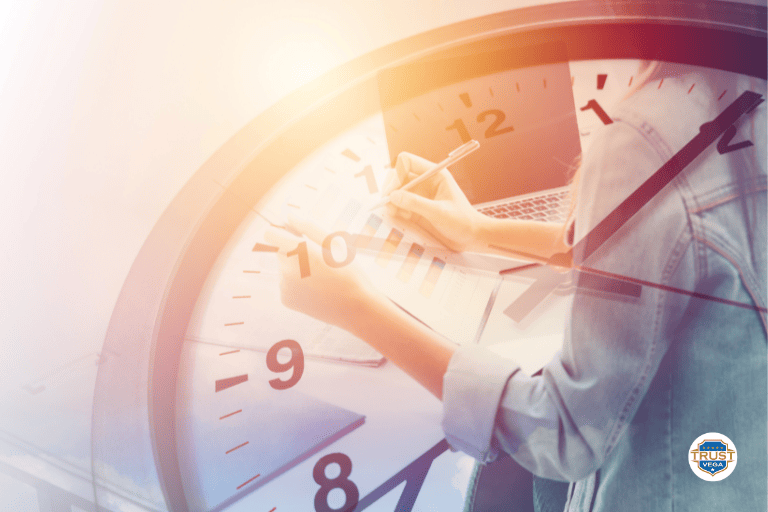 The best time to ask for a review is when your customer reaches a moment of satisfaction or delight. This might be immediately after an interaction with your business, or some time after receiving your product or service.
Think about how customers interact with your business, and maximize your chances of receiving positive reviews by choosing the right moment.
Here are some optimal times to ask for reviews depending on the type of business:
Review requests for product-based businesses should generally be made no later than two weeks after a consumer has had a chance to try the product. This gives them enough time to reflect on their experience and provide genuine feedback.
When it comes to service-based businesses, the best time to do a review request is right after you've finished working for a client. This may ensure that the review will be given since the experience and your interaction are still fresh in the client's mind.
Depending on the product or service and industry that you provide, keep in mind that timing may vary. So it is essential to have a solid understanding of your customer journey.
The best ways to ask for reviews
Online reviews undeniably hold such great value for businesses. Not only do they shape your online reputation, but they also influence your future customers. But to get the most out of reviews, you need to know how to ask for them properly.
Here are some of the best ways to request reviews from customers ensuring you gather valuable ones:
Review request in-person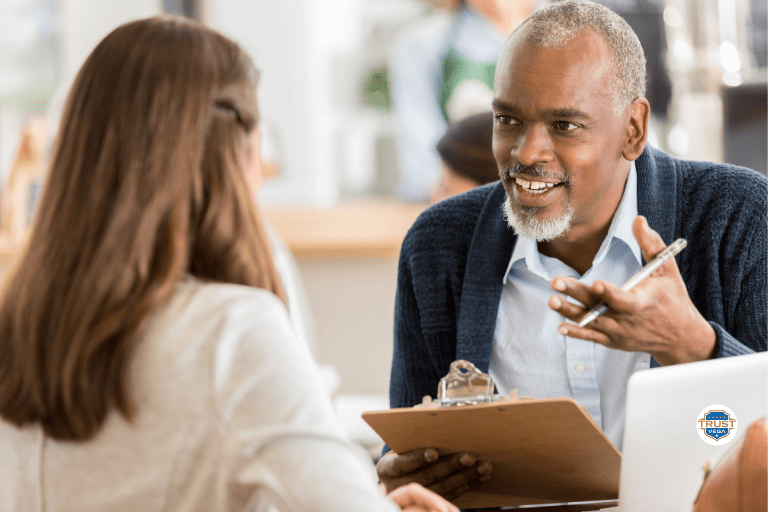 Asking for a review in-person can be a powerful approach to gathering valuable feedback. Here's how you can do it effectively:
Make conversational opportunities: Initiate conversations with customers by asking questions about their experience. As the conversation progresses, find an appropriate moment to ask for a review based on their responses.
Make it convenient: Make it easy and handy for customers to leave a review. You could give out business cards or printed materials with QR codes or website links that lead people to the review site you prefer. This gets rid of any problems or confusion that might come up when people try to find the right place to leave their comments.
Provide guidance: If a consumer is unsure how reviews work, give them simple instructions on how to use the review platform. You can give a brief overview of the steps. Doing so may increase the likelihood that they will complete the review.
Example conversational review request:
You: Thank you for choosing our business today. I hope you had a great experience. Is there anything else I can assist you with?
Customer: No, Everything was fantastic. Your service exceeded my expectations.
You: That's wonderful to hear! Thanks for letting me know, I truly appreciate it.
Would you mind putting that into a brief review on [platform]? If so, it would be greatly appreciated. Your review will help potential customers like yourself make informed decisions and feel more secure in choosing us.
Customer: I would love to!
You: Great! We have here a QR that will get you directly to our review page. Here's how to use it…
Remember, the key here is to be genuine, express gratitude, and explain the value of their review in helping others make informed decisions.
Review request over the phone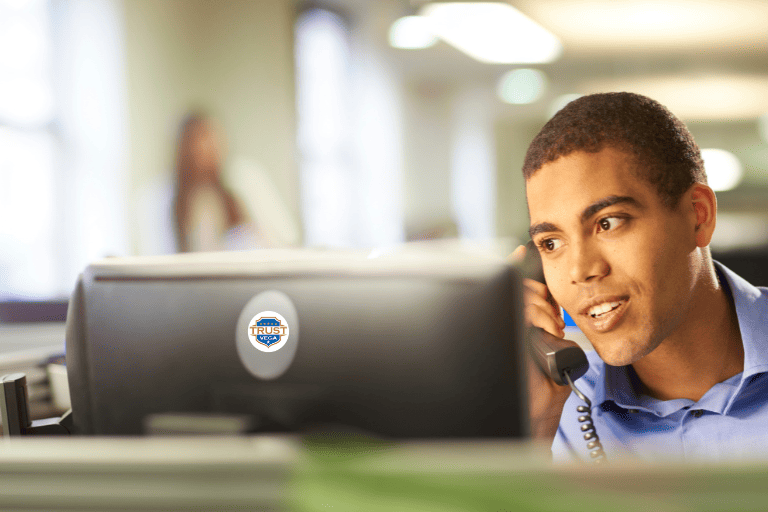 Over the phone, you can ask clients for reviews. To make the most of this channel, choose the right customers who are more likely to give positive feedback and the right timing before proceeding to ask them.
Craft tailored questions to encourage clients to share positive experiences. Ask about their overall experience or how your product/service has benefited them.
Example questions:
How would you describe your experience with our product/service and company in general?
Can you share any specific benefits or results you have experienced since working with us?
Are there any specific features or aspects of our product/service that you find particularly valuable?
When it comes to this channel, try to focus more on satisfied customers who are likely to provide positive feedback.
Review Request via Website
Asking for reviews through your website can also be a powerful way to gather valuable customer feedback.
Here's how you can do this:
Create a dedicated review section on your website for easy access.
Highlight positive feedback to showcase social proof and encourage participation.
Integrate review widgets or plugins to streamline the review process.
Optimize your review form, keeping it user-friendly and concise.
Promote your review section throughout your website with strategic calls-to-action.
Review Request on Social Media
Are you utilizing social media to collect reviews from customers?
Due to the large number of daily users, social media can be a powerful tool for businesses to ask for reviews from customers. Facebook is among the leading social media sites. It makes sense that customers would be more likely to leave reviews on Facebook given how many individuals have Facebook accounts today. In fact, around two-thirds of Facebook users regularly visit a local business page.
You can start using your Facebook page to ask for reviews. Here's a step-by-step process on how you can turn on recommendations and reviews (for new pages):
Step 1: Sign in to your Facebook account
Step 2: Click your profile photo in the top right.
Step 3: Click the See All Profiles, then select the Page you wish to switch to from the drop-down menu that appears.
Step 4: Simply click the profile photo of your page in the top right.
Step 5: Next, click Settings & Privacy, then select Settings.
Step 6: In the left menu, select Privacy, then Page and tagging.
Step 7: Turn on the "Allow others to view and leave reviews on your Page?".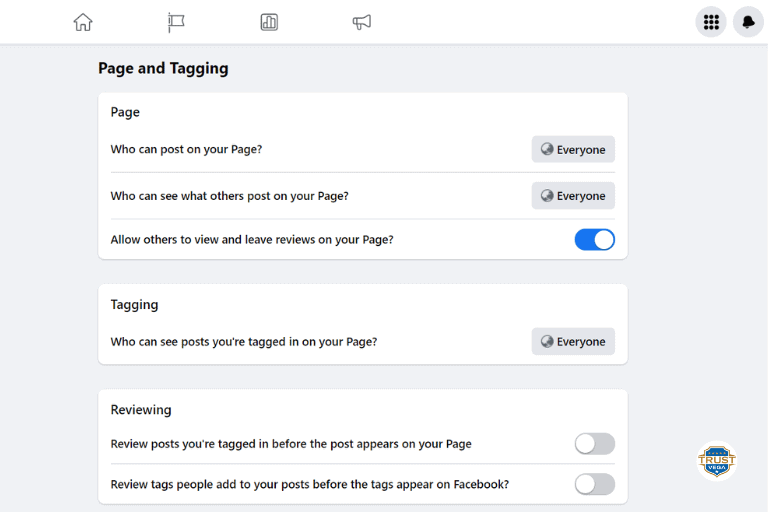 Please note this process is applicable to new pages. If your page is a classic one, check out Facebook Help Center for step-by-step instructions.
After you enable reviews on your Facebook business page, you may now share the link of your business page with your customers allowing them to easily view and leave Facebook reviews or give recommendations on your page.
Review request via email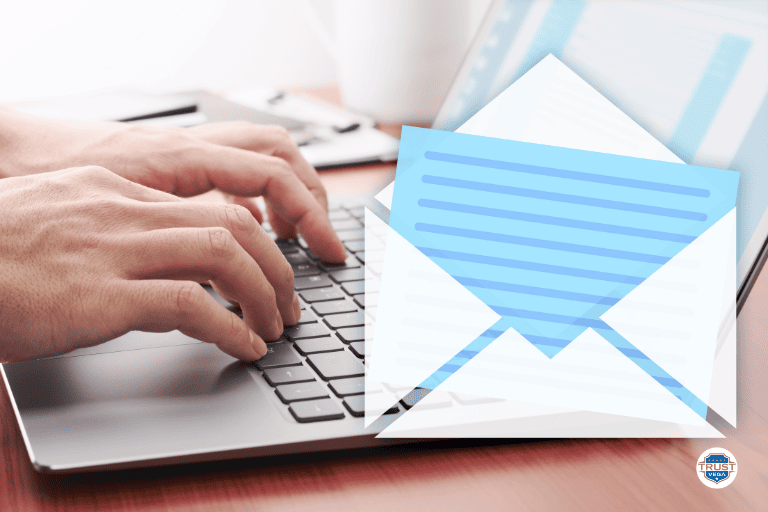 Email is one of the most powerful channels for requesting reviews.
Not only do a lot of consumers access their email every day, 58% of them check it first thing online before doing anything else.
Wondering how to write a compelling review request via email?
Here's a step-by-step process you can follow:
Step 1: Craft a Compelling Subject Line
Create a compelling subject line to attract the recipient's interest. Make it concise, engaging, and relevant to your review request. Subject lines that pique interest or provide value are more likely to be opened.
Step 2: Personalize the Email
To establish a personal connection with the recipient, use their name. This demonstrates that you value their thoughts and increases the likelihood that they will respond positively.
Step 3: Express Gratitude and Set the Context
Begin the email by thanking the recipient for their business or support. Reiterate the benefits they received from using your product or service.
Mention particular occurrences or facts that will pique their interest and induce a sense of familiarity.
Step 4: Request a Review
Ask the receiver politely and directly to share their experience by submitting a review. State your intention to collect their comments and emphasize the significance of their opinion.
Inform them that their feedback will help you improve the business and help other customers make informed decisions.
Step 5: Provide Clear Instructions and Options
Include direct links to review sites like Google, Yelp, and industry-specific review sites you care about.
To make the procedure more straightforward and user-friendly, consider utilizing anchor text or call-to-action buttons.
Example of an email review request template:
Subject: We'd Love to Hear Your Story!
Hi [Customer's Name],
At [Your Business Name], we believe that our customers' experiences are the most important part of our success. We're reaching out to you because we would love to hear your thoughts.
Were we able to meet your expectations? Did our product/service help your life or business in a good way? We'd love to hear about your experience and how we've helped.
Your review can help us grow and improve, as well as guide other potential customers to make informed decisions.
To make it super convenient for you, we've prepared direct links to our profiles on popular review sites:
[Review Site 1]: [Link to your profile]
[Review Site 2]: [Link to your profile]
[Review Site 3]: [Link to your profile]
Your feedback matters more than you know.
Thank you for being a valued customer of ours. We can't wait to read your review and continue providing outstanding experiences to all our customers.
Warm regards,
[Your Name]
[Your Position]
[Your Business Name]
[Contact Information]]
You now have an idea on how you can ask for reviews effectively and use email to your advantage.
But… what if you don't have a list of your customers' email addresses?
Well, you're not alone. Many businesses just don't keep customer lists despite of it being one of the best practices that can be beneficial for businesses.
Don't fret though, as it is never too late to start. There are tools like Trust Vega that make it easier for you to collect your customers' email addresses. (See below)
How do you ask for a review on different review sites?
Review sites are frequently used by consumers before making decisions on where to eat, which hotel to stay at, or which product to buy.
As a business owner, it's crucial to use customer reviews to boost your online reputation and bring in new consumers. However, with numerous platforms available, such as Google, Yelp, TripAdvisor, etc., each with its own set of rules and guidelines, it can be overwhelming to navigate these online review sites and ask for reviews effectively.
To make the most of these platforms, you may follow the following tips and steps for sharing your review pages from these sites with your customers.
How to ask for a Google review
With billions of searches performed each day, Google has become an indispensable tool for finding products and services. Without a doubt, businesses of all sizes, regardless of location, need to ensure they have a strong presence on Google.
In order for you to achieve this, you have to collect as many Google reviews as possible.
Here's a step-by-step process on how to ask for Google reviews:
Step 1: Go to your Google Business Profile account and navigate to your Business Profile.
Step 2: Within your Business Profile, locate and click on the "Ask for reviews" button.
Step 3: Copy the generated link.
Step 4: Share it directly with your customers through different channels.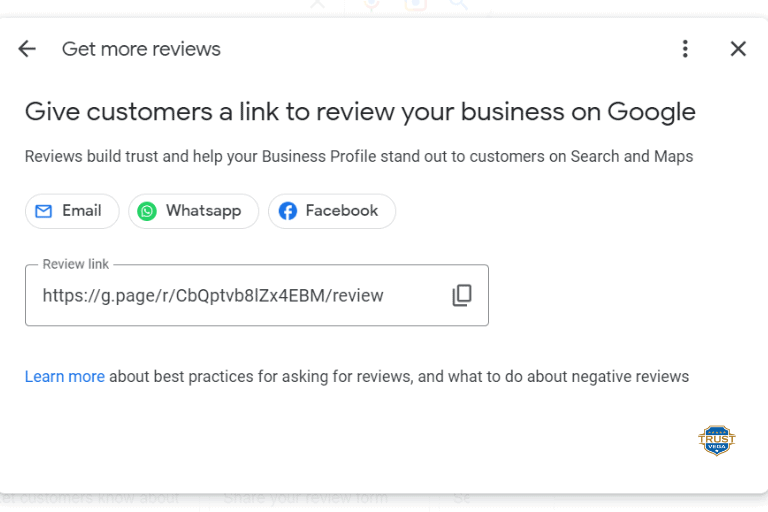 Make it easier for your customers to post reviews on Google by giving them a direct link to your review page.
How to ask for reviews on Yelp
Yelp has established itself as a prominent platform that significantly influences the reputations of businesses. With millions of active users and a vast database of local businesses, Yelp has become the go-to resource for consumers seeking recommendations, insights, and reviews from others.
No wonder, utilizing this review website for your business can be beneficial. However, like any other site, it has its own policies regarding reviews.
According to Yelp's review policies and content guidelines, businesses are prohibited from asking for reviews from customers.
But don't worry. To get more reviews on Yelp, here's what you can do instead:
Include a Yelp link in your email signature – In your email signature, include a link to your Yelp business listing. This subtle reminder encourages clients to visit your Yelp page and share their experiences.
Display a Yelp badge or banner on your website – Use Yelp's badges and banners by simply adding the HTML code to your website. When clicked, it directs visitors to your Yelp page, making it easy for them to post a review.
Show the "People Love Us on Yelp" sticker at your physical location: Display the "People Love Us on Yelp" sticker (you will be able to receive this from Yelp if you have good on their platform) if your business has a physical location and good Yelp reviews. To draw attention and promote reviews, hang it near the front counter or area that is easily visible.
How to ask for reviews on TripAdvisor
When it comes to booking travel and accommodations, TripAdvisor has become a trusted resource for millions of people around the world.
If you're in the travel and hospitality industry, having sufficient reviews on this platform can be beneficial for your business.
To get the link to your actual review page on TripAdvisor and share it with your customers, follow these simple steps:
Go to your TripAdvisor page.
Locate the "Write a review" button, then click it.
Simply copy the URL or website address from your address bar of your web browser.
You may now send customers the link via email, social media, or your website once you have it. Encourage them to write a TripAdvisor review highlighting their experiences and satisfaction with your business.
How to Ask for Reviews on the App Store and Play Store?
Both Google and Apple are aware of the significance that customer feedback plays in improving the quality of apps and resulting in a positive customer experience. They give ways for customers to share their experiences by leaving reviews and ratings on their individual app and play stores and encourage developers to seek reviews from other users actively.
Here are some additional tips from Apple:
Users should rate and review your app after using it. Allow users time to evaluate your app.
Avoid interrupting users, especially while they're doing time-sensitive or difficult tasks on your app.
Allow a week or two between rating requests. Ask users again after additional app engagement.
Also, you can get users to rate and review directly within your app on Android with an in-app review API rather than having to leave your app. The shortened approach improves the user experience and increases the possibility of more reviews being posted for their apps.
What should you not do when you ask for reviews?
Maximize the potential of your brand by asking for reviews with a strategic approach. Avoid common pitfalls that can damage your reputation or violate platform guidelines.
Here are some things you should not do when asking for reviews:
Don't offer incentives for positive reviews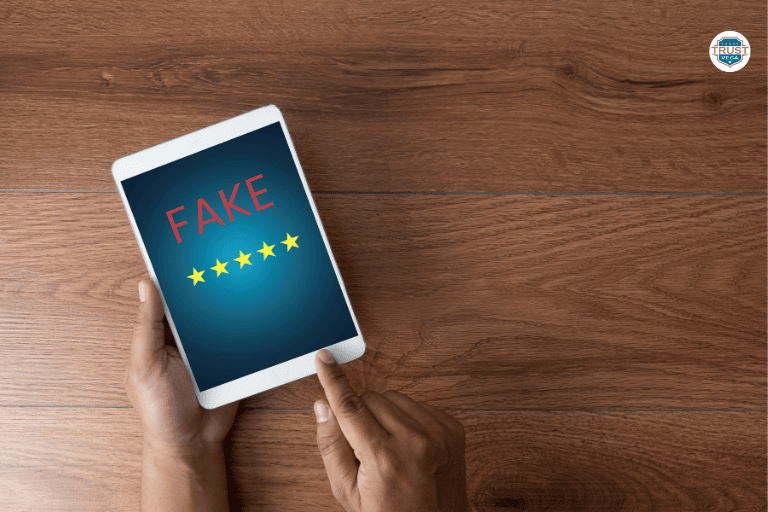 Ensure the authenticity and credibility of your reviews by refraining from offering incentives for positive reviews, as this goes against the guidelines of most review platforms.
Avoid pressuring or manipulating customers
Never use aggressive or manipulative approaches to get customers to leave a review. Respect their decision and deliver a great experience, leaving it up to them to give their feedback.
Do not create fake reviews or hire others to do so
Fabricating or paying for fake reviews is unethical and can have serious consequences for your business, such as a damaged reputation, legal concerns, and penalties from review sites.
So although it might be tempting to bury negative feedback under a pile of fake positive reviews, its much better, safer, and cheaper to proactively ask for reviews and bury any negative reviews under a pile of genuine customer feedback.
Using a system like Trust Vega will help you keep the momentum be asking your customers for feedback automatically.
Things to keep in mind when asking for reviews from customers
When you ask for reviews from clients, there are some important things you should always remember:
Timing is key
Choose the ideal opportunity to ask for a review, such as after a great experience or successful interaction with your product or service and do so at the appropriate time. Timing is everything.
Personalize your approach
Tailor your request to each individual consumer by mentioning their name and referring to unique experiences or interactions they have had with your company.
Express gratitude
Show your appreciation to the customers for their continued support and for taking the time to provide a review.
Ask in a polite manner
Ask in a manner that is respectful and polite while avoiding making any demands or exerting any kind of pressure.
Follow-up or remind your customers
If a customer hasn't posted a review after a respectable length of time has passed, you can send them a friendly reminder, or a follow-up note.
Additionally, consider using review management software like Trust Vega to help monitor and remind customers to leave reviews. These tools can streamline the process and ensure timely follow-up with customers.
Get Valuable Reviews Effortlessly with Trust Vega
Would you like to have a review management system in place that frees you from worrying about how to gather many reviews effectively and proactively – not just any reviews, but VALUABLE reviews?
With review management software like Trust Vega, you can do just that.
You really don't have to put all that much effort into this at all. Simply enter your customer's name and email and Trust Vega will handle the rest of the process automatically!
With Trust Vega, you can request feedback, anytime and anywhere.
We offer six hustle-free ways to ask for reviews, including:
Web Link
Use our embedded button to collect feedback directly from your website, or include a direct review link in your email signature to collect feedback from customers.
QR Code
Print a QR code so that clients can simply point their smartphone cameras to leave a review.
You can add a QR code to business cards, invoices, posters, and other marketing materials so customers are quickly able to provide feedback.
Kiosk
Set up a "kiosk" with an iPad or tablet so that your customers can leave reviews in store when they buy something or as they are about to leave.
Ad-Hoc Request
Simply input a customer's name and email to request feedback; the rest will be handled automatically by our system.
Upload Customer List
After you have uploaded your customer email list, our system will automatically send feedback requests to customers who are eligible over time.
API
Connect your customer relationship management system (CRM) or shopping cart (either directly or through Zapier), and your preferred app will send out feedback requests on its own.
It's time to stop worrying about anything but expanding your business and start letting Trust Vega handle your customer feedback collection instead.