In this post, we are going to dive into the world of review tagging, and how you can not only use it to spot patterns and gain actionable insights, but also as a potent marketing tool.
See, a review is a valuable asset to your business.
If it's positive, it can be a magnet that attracts new customers.
If it's negative, it can give you insights that help you improve.
But like so many other things in life, it's when you combine individual reviews in a co-ordinated way, they become even more powerful than they were on their own.
Or as Aristotle famously put it –
"The whole is greater than the sum of its parts".
The Benefits Of Tagging Your Reviews
Trust Vega's tagging system lets you organise your reviews in ways that are meaningful to your business. This gives you the level of co-ordination you need to unleash the collective power of reviews.
So without further ado, let's dive in to the key benefits, along with some ideas you can use and then finish with some live examples of how Trust Vega clients are using tags to power up the effectiveness of their marketing.
The benefits (from most practical to most mind blowing) are:
~ Context / Attribution
Tags let you add the crucial context you need to segment, categorise and gain insights on your business. With proper context, it becomes easier to spot patterns in your reviews and take action accordingly.
For example, you could use tags to discover:
The staff who are the best ambassadors for your business (and any training needs).
The products and services your customers love the best (and least).
The review collection channel(s) that customers are most engaging with – for example, was it the QR code on the comp slip, the poster in-store, or the link in the receipt email?
Any location/store specific customer service issues – for example, is your catchment area too large to make customers happy at the fringes, is one branch or location struggling?
Differences in satisfaction between cohorts of customers (see also 'What Is Customer Satisfaction?') – for example, large accounts vs small accounts, lunch vs dinner service, bookings vs walk-ins, etc
~ Topic Tracking / Followup
Tags can also be used to capture the topics or themes of a review so that you can track which of these vital 'soft metrics' are most impacting your overall ratings.
For example, you could have topic/theme tags such as:
"Service" – for reviews that mention staff members, customer service
"Value" – for reviews that mention price, cost, expensive, cheap, good/bad value etc
"Speed" – for reviews that mention slow / fast service, delivery / callback time etc
"Facilities" – for reviews that mention cleanliness, smell, decor, atmosphere, noise etc
"Quality" – for reviews that mention quality, expectation or experience related issues
You can also create tags to indicate the status of your followup, such as "Needs Followup", "Waiting for Customer", "Issue Resolved" etc
~ Marketing Your Reviews
You'll forgive us for saving the best till last…
You see, while most customer experience management tools have tagging to make organisation and analysis of reviews easier, Trust Vega is one of the only systems to offer customer experience MARKETING.
That's because we let you display reviews on your website based on any combination of tags.
So you can do things like:
Put product/service specific reviews on the page describing that product/service
Put staff specific reviews on their about me / profile page
Put location specific reviews on the store location page
Use reviews highlighting a specific topic or aspect of service as context / proof
Cherry pick a selection of your best reviews and put them on a key conversion page
By allowing you to be hyper-focussed in the way you display your reviews, you can strategically place reviews on your pages to boost your visitor-to-customer conversion rates.
Done right, you'll soon find your new customers mentioning your reviews as a key reason why they chose to do business with you… just like these Trust Vega clients do.
(Ahem… See what we just did there…?!)
And because customer stories most accurately reflect what your potential customers are searching for, your pages will get the benefit of keyword rich, fresh content to boost your SEO and drive even more traffic.
So make use of Trust Vega's tags – they are your online marketing secret weapon!
How To Tag Your Reviews
Trust Vega lets you create as many tags as you like, and you can tag reviews at the point of request, as well as after a review is received.
Creating Tags
Creating tags is simple – just visit the Tags page (under the Reviews menu) and click the "Add Tag" button. You can also see how many reviews are tagged with each tag, rename and delete tags.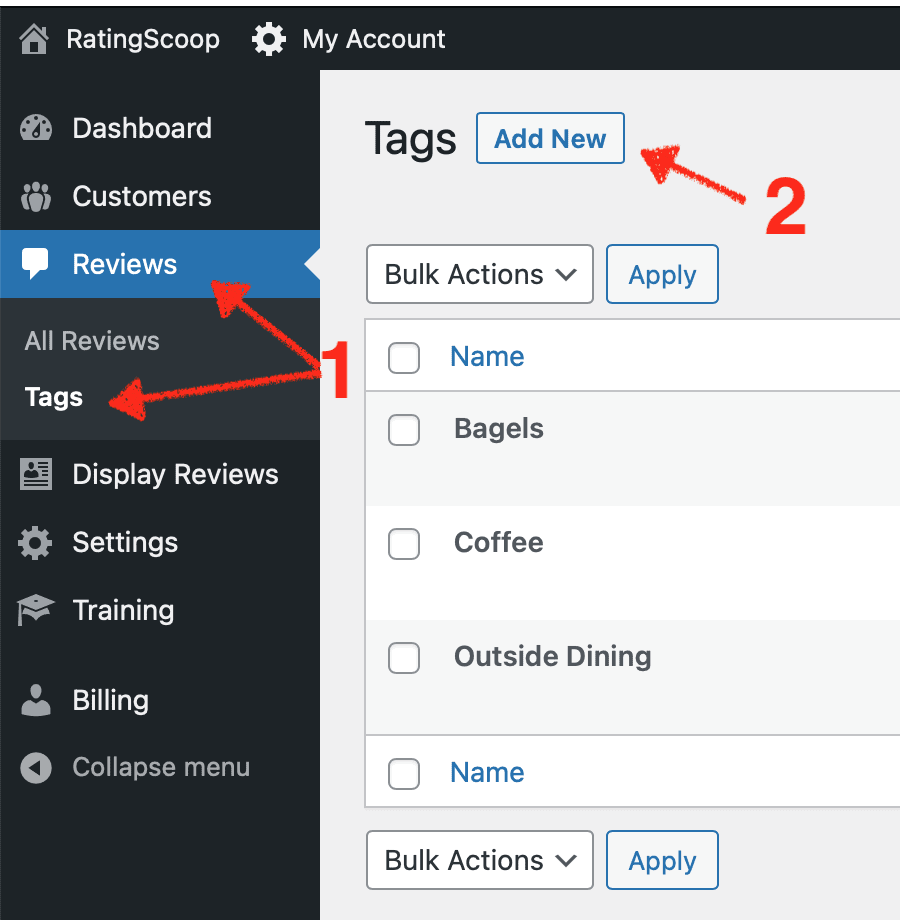 Tagging at the point of request
Whichever of Trust Vega's 6 review request channels you use (Email, Upload, API, QR Code, Link or API), you can choose the tags when you make a review request. For example, here's the email request box: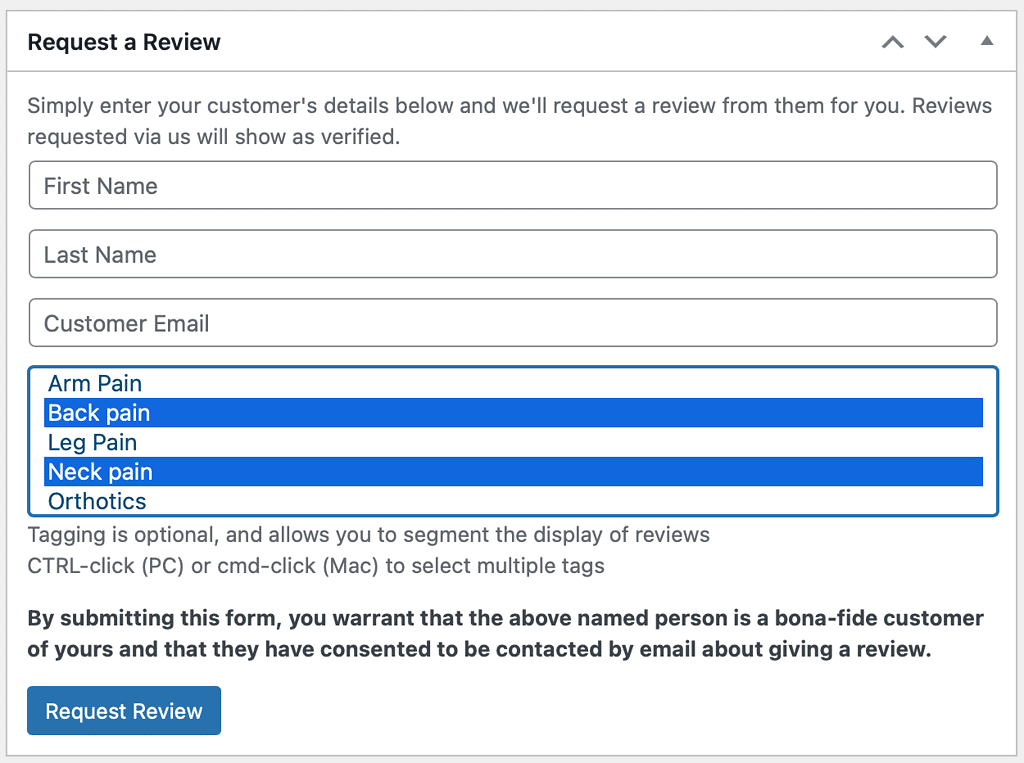 Tagging after a review is received
You can edit the tags on a review at any time – simply edit the review to set the tags.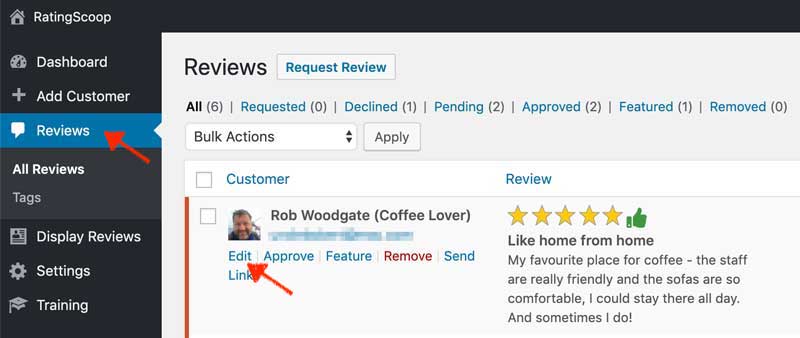 Displaying Tagged Reviews
Finally, you can grab the Javascript code snippets (or WordPress shortcode) to display your tagged reviews from the "Display Reviews" section of your account.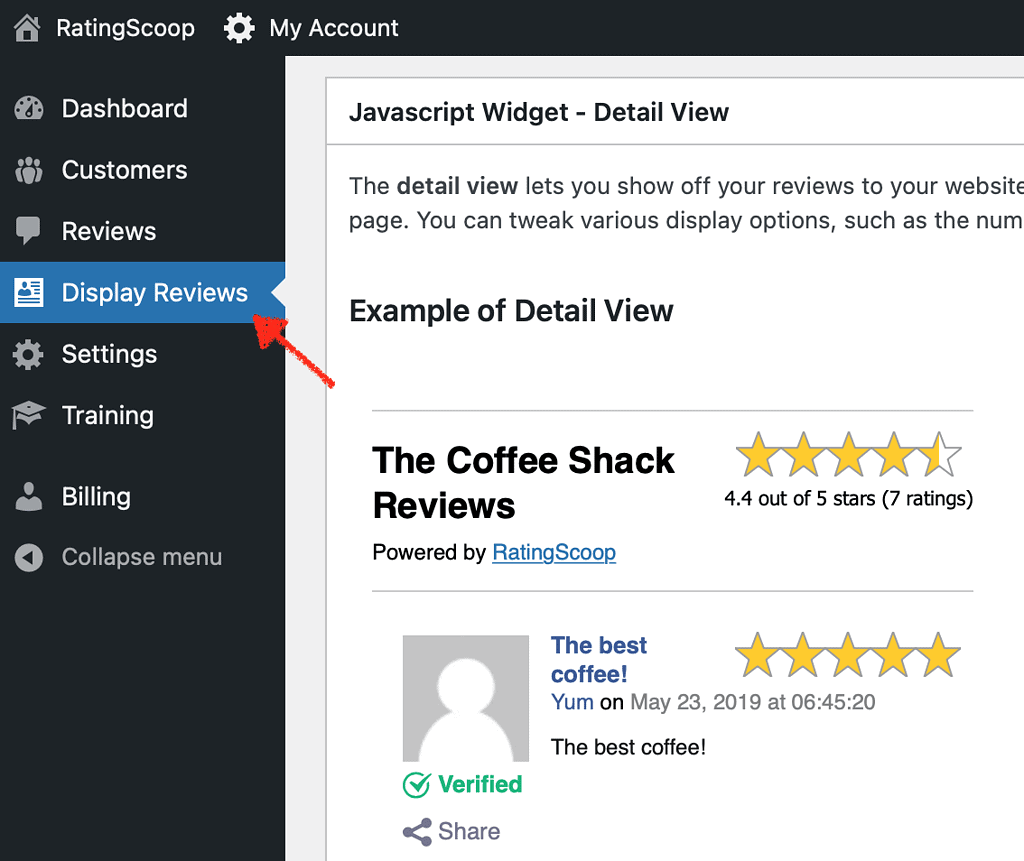 Some Client Examples "In The Wild"
Here are a few examples of review marketing from our clients (some of who use our Trusted Practitioner branded version of Trust Vega).
The Surrey Institute of Clinical Hypnotherapy displays reviews for each of its therapists on their about page.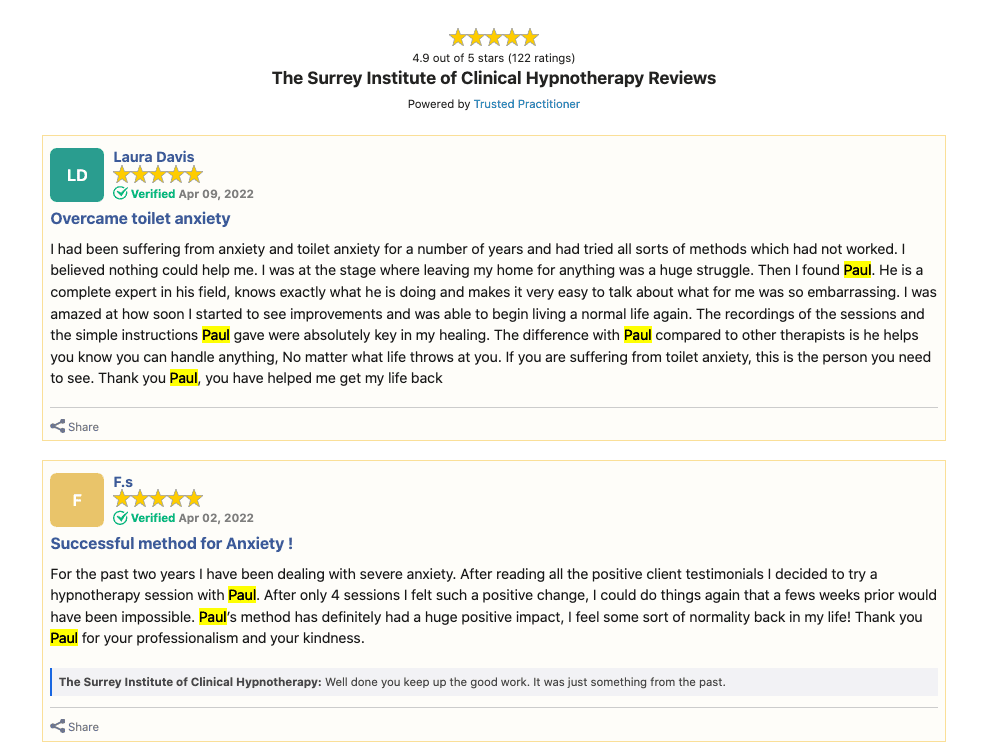 ---
Osteopath, Alex Green, displays all his running treatment reviews on a dedicated website called FixMyRun. Look at all the juicy, targeted keywords his reviews add to the page.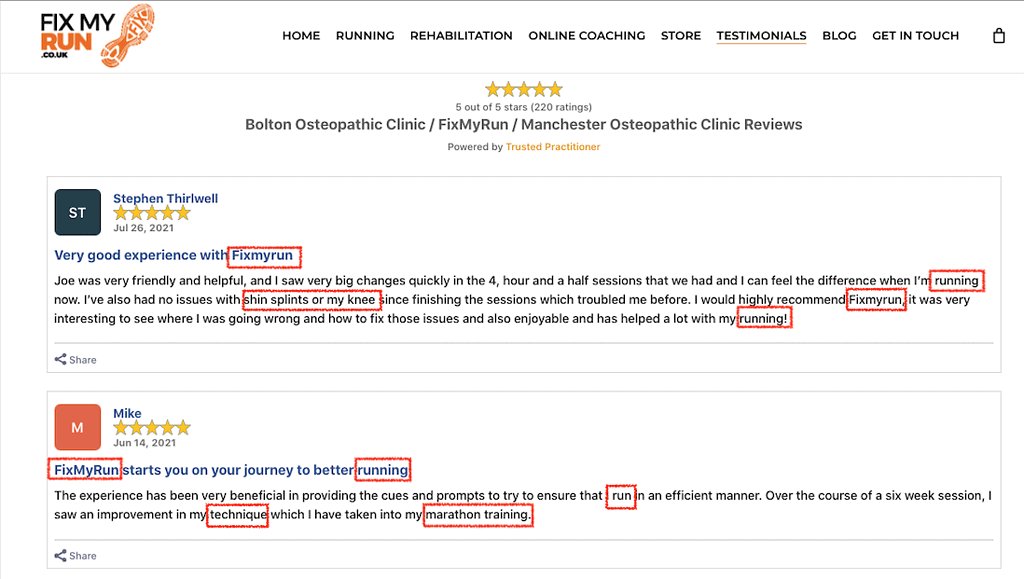 ---
For our final example, Mind Factor International uses a review as a contextual proof element in the sales page for their golf mind coaching programme.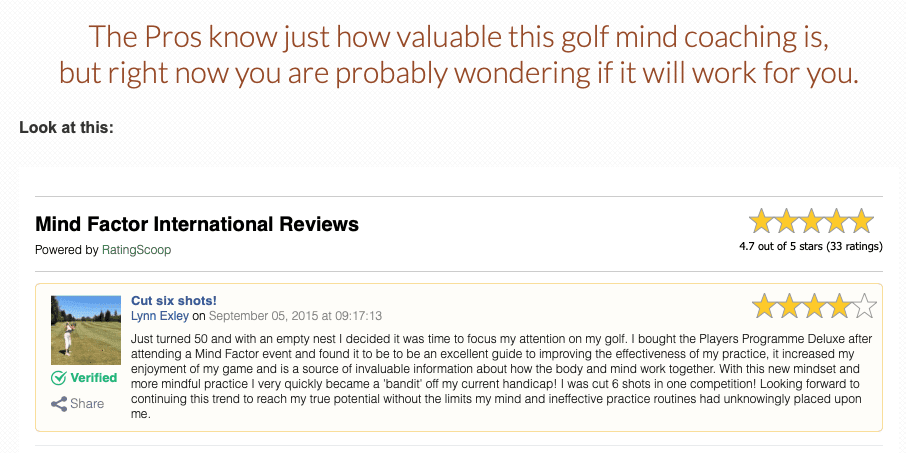 ---
Review Tagging: A Summary…
Hopefully you've got a flavour of how powerful Trust Vega tagging can be, not only as a way to gain actionable insights, but also as a potent marketing tool.
By thinking about the context, topics and followup that will be most useful to you internally, as well as the review groupings that would be most useful to your business marketing efforts, you can start to build up a core set of tags tailored to your business.
But don't overthink it – the beauty of tags is you can add, edit or remove them at any time.
So just get started with a few core tags, and build up from there.
Let us know how you get on in the comments – especially if you have success using some of the ideas and examples in this article, or if you come up with an angle we haven't covered!
(Not a Trust Vega customer yet? Take a free trial below!)