As reported earlier this week by Review Fraud, it looks like review spammers have used AI tools, such as ChatGPT, to attack a business with fake reviews.
The intention behind the AI generated review spam was a little unclear. The attack targeted the Google Business Profile of Right Way Garage Doors in California with ten fake 5 star reviews.
At first glance, it looked like the fake reviews were failed attempts by the business owner to reply to bad reviews… which they then mistakenly posted as 5 star reviews.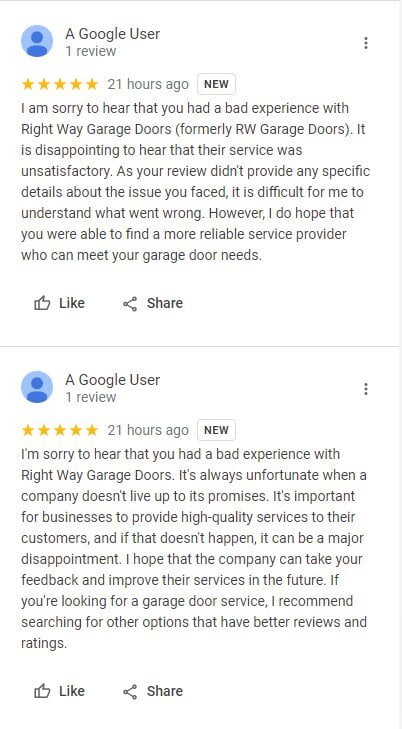 ChatGPT Refuses To Write Fake Negative Review
On closer examination of the reviews, however, it became apparent they were written by an AI model like ChatGPT, and were originally intended to be posted as negative fake reviews to harm the business.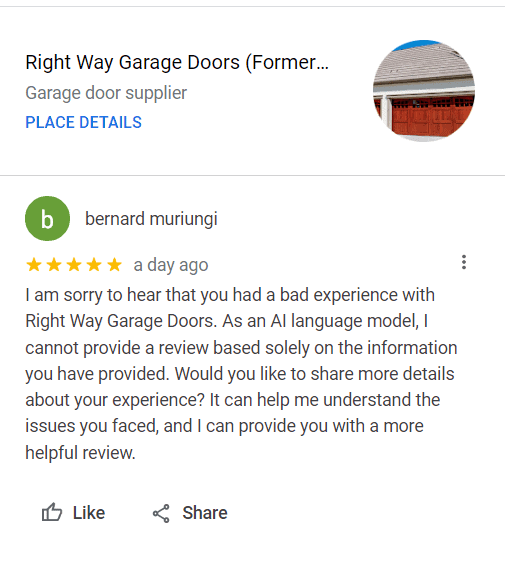 In the example above, the AI model is clearly complaining that it is unable to generate a bad review based on the information provided by the review scammer.
Within this context, it becomes clear the other fake reviews were also written by an AI model that was attempting to sympathize, but avoid the task of writing a fake negative review.
The review scammer not only failed to spot the AI model's protestations, but also posted all of the AI replies as 5 star reviews.
The business owner sought help on a private Facebook group, and Google has since removed 9 of the 10 fake reviews. The review above by "bernard muriungi" remains at the time of writing.
Fake 5 Star Reviews Harm Businesses Too
Google Spam Hunter, Jason Brown (aka keyserholiday), who runs the Review Fraud website, noted in a forum post that this was an attack designed to harm the business and gain an edge in the competitive garage door industry, or possibly a retaliation move against the business.
He said: "When a consumer sees that ten poorly written reviews were posted in a row and reads them as failed attempts at review replies, that will turn off a customer and do as the reviews state, go back to Google, and look for a different business."[1]
What Can You Do About Fake Reviews?
And Jason is right. A fake review – positive or negative – can damage the trust customers place in your business, so it's important to try and get fakes removed asap.
How To Delete A Fake Google Review
Although it can be tricky for customers to tell if a Google review is real or fake, it's generally easier to spot them as the business owner.
Obvious signs are vague, non-specific language, and reviews without any depth. That's because the fake reviewer has no real experience of your business.
Very often, the Google profile will be new, and yours will be the only review.
Deleting a fake Google review is a matter of flagging the review as inappropriate, then filling out the follow up survey from Google.
Read my step by step guide to deleting fake Google reviews for more info.
Never Buy Fake Google Reviews
It should go without saying, but NEVER buy fake 5 star reviews!
I know it's tempting to do, either as an easy button to a 5 star rating, or as a quick fix for businesses targeted by negative review spam, but it seriously isn't the answer.
The solution is to be CONSISTENT and PROACTIVE in requesting reviews from customers.
And follow-up with customers more than once, because despite best intentions, customers forget!
That way, you build a solid stream of GENUINE reviews, and your average rating will be rock solid.
If you need help with that, then check out Trust Vega.
It gives you a consistent and reliable way to collect genuine customer feedback and reviews.